Engage over 50's insurance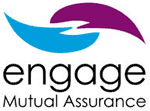 You may have seen the guaranteed acceptance over 50's TV adverts. Engage is one of the leading providers for this type of life insurance.
Engage, a Yorkshire based company was previously known as Homeowners Friendly Society which was established in 1980.
We're all living longer, so 50 isn't old and it's certainly still young enough to think about life insurance . For less than you might expect, you could make life easier for a surviving partner, leave a lump sum to your loved ones, and cover your funeral and other expenses.
The great news is that for over 50s, it's never been easier.
Acceptance is guaranteed, with no medical screening for UK residents aged 50 to 80 . It's simple, quick and straightforward to arrange one phone call is all it takes.
But the good news doesn't stop there. At Talk to the Market®, we don't assume that being over 50 means over-50's life insurance. Depending on your circumstances, you may well qualify for life insurance on standard terms. We compare Engage Mutual life insurance, which means you may get a great deal more for the same price.
And with Talk to the Market®, one phone call is all it takes to get started.